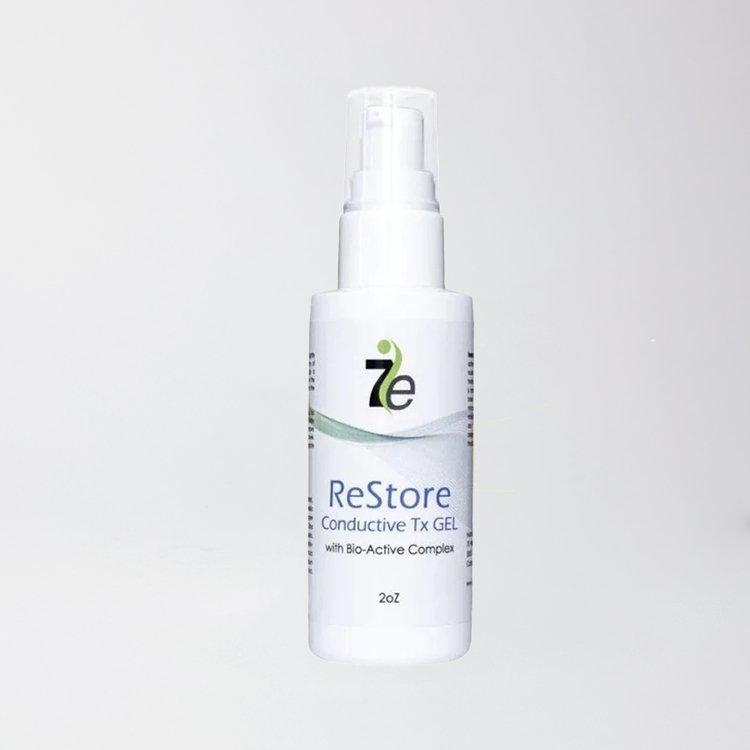 2oz. ReStore Anti-Aging Conductive Gel with Bio-Active Complex
Free US Domestic Ground Shipping
The treatment gel for mature and anti-aging skin conditions. Restore gel focuses on the health and integrity of the skin from the onset of the chronological aging process. As the skin ages, there are a number of changes that take place in the skin that compromise the skin's health if not treated. Fine lines and wrinkles begin to develop over a period of time and the skin's overall health deteriorates. Internal and external factors such as hormonal changes, environmental damage and sun exposure can minimize the skin's natural ability to regenerate. 
Applying the treatment gel for anti-aging skin conditions will induce self-healing, hydration and nourishment while delivering the benefits of microcurrent into the skin. The infused essential properties of the following active ingredients will leave hydrated, tightened and with a healthy glow.
Active Ingredients
Green Tea - Green Tea contains extremely high levels of polyphenols, a strong antioxidant to protect cells from free radical damage. Included in Green Tea minerals zinc and magnesium.
Neroli - Neroli is a natural healer of the skin with antibacterial properties. Regenerates new skin cells due to its cytophylacic actions, while invigorating current skin cells. Soften and moisturizes the skin.
Collagen Peptide Concentrate - Collagen is the matrix foundation of the skin. Collagen is a natural protein that allows the skin to maintain its integrity and turgor at the basal layers.
Copper - Anti-aging, regenerate new collagen & elastin proteins for skin firmness, improves skin microcirculation, free radical, aids in moisture retention.
Seaweed/Kelp - Ultra-hydrating qualities, seaweed boasts anti-aging and anti-inflammatory benefits. Contains natural amino acids, vitamins and minerals, and it has anti-bacterial properties
Zinc Minerals - Zinc repairs damaged tissues and heals wounds. Ideal for topical irritations, acne, eczema and psoriasis. Alleviates inflammation and reduces natural sebum secretions. Zinc acts as the vehicle to deliver the current into the skin.
Complete Ingredient List
Filtered Water (Agua)

Vegetable Glycerin

Carbomer

Xanthan Gum

Hyaluronic Acid

Citrus Urantium (Neroli) Oil

Copper

Ascophyllum Nodsum (Sea Kelp) Extract

Collagen Peptide Complex

Zinc

Camelli Sinesis (Green Tea) Leaf Extract

Sodium Hydroxide
Free USA Ground shipment, Orders are processed within 2 business day.
International Orders Ships within 3 business day. 
International customers are required to pay Duty with their local custom agency.