3 Steps to Drive Revenue with Microcurrent Facial Therapy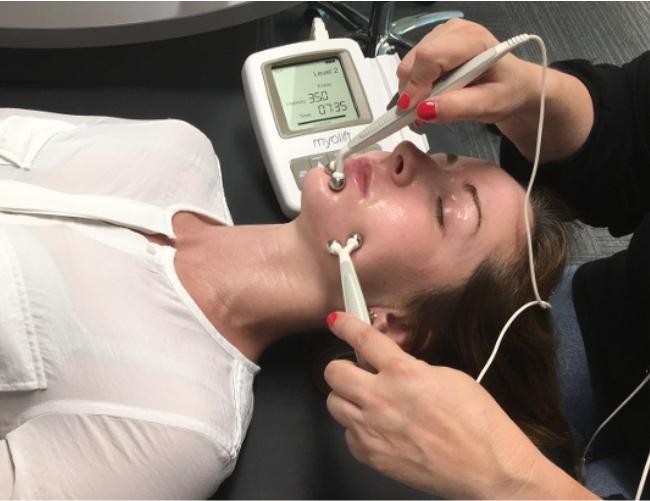 As a Spa owner and aesthetician, the responsibility of client satisfaction can sometimes feel overwhelming. We know you go out of your way to squeeze in an appointment for your loyal client who is going on vacation and wants a last minute treatment. You are stuck in the facial room while everyone else is enjoying a beautiful summery day at the beach.
Well, it can change! Follow these three simple steps to increase client satisfaction and drive revenue.
First Step: Instead of Facials go for Microcurrent Treatment:  
Regardless of whichever facial or anti-aging skin care your client comes in for, give them an astounding microcurrent facial. As an aesthetician, your work will be done in just 35 instead 60 minutes. 7E MyoLift™ professional microcurrent machines come with a timer that will keep you running a tight ship.
Using MyoLift™ on each client will not only save time but also benefit you as an aesthetician in multiple ways.
Saves your energy in bringing WOW results. MyoLift™ will get your consistent results without bringing strain to your hands.
Visible results that make you technology savvy in the eyes of clients.                                                                 
Second Step: Educate your clients about skin issues: 
One of the major skin problems is aging and wrinkles caused due to sun damage. Most of the clients think applying sunscreen solves the issue. What they don't realize is that suncreen can just reduce 80% of the sun damage. Use the magic wands of 7E MyoLift™ microcurrent machine and reduce the sun damage issues of your clients.
Third Step: Make loyal customers with 7E MyoLift™ 
You may have attempted to sell a bundle of beauty packages to your clients and failed. Try selling your clients a package of 10-12 facials after giving them a MyoLift™ microcurrent facial. After seeing the immediate skin improvement, your clients would be eager to buy the packages and this way you will make more bucks per customer instead of more appointments per day.
---