5 Step Microcurrent Protocol with LED Light and Human Cells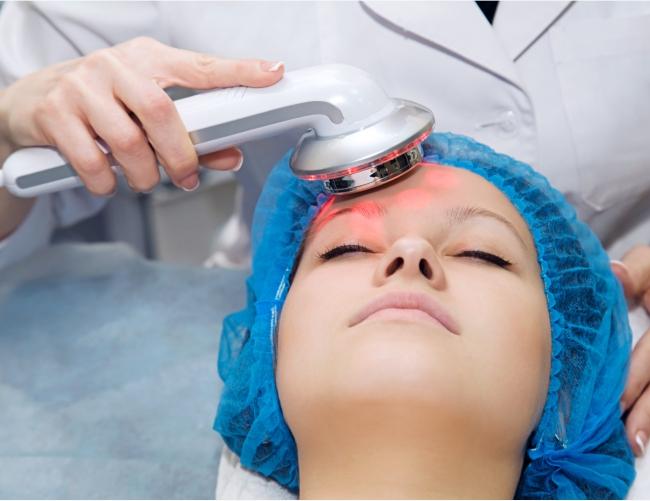 In the series of protocols, the combination of LED light with microcurrent facial treatment has been tried and tested. Generally used as an acne treatment protocol, these two therapies together address all the factors that lead to development of acne. The healing process of the skin is sped up as each individual pimple is treated with reduction in acne scars and new tissue regeneration is promoted.
STEP 1: REMOVE MAKEUP & CLEANSE FACE
The first step is to cleanse the skin to remove the make-up and dirt from the skin.


STEP 2 : EXFOLIATE
Exfoliation is an essential step as it cleanses the skin, minimizes the build up in the pores, reduces the whiteheads and acne breakouts. Exfoliation before LED light treatment will help in treating acne breakouts and reducing the size of the pores in facial skin.


STEP 3 : HUMAN CELLS (FACTOR 5 OR NEOGENESIS)
Before the LED light stimulation, we like to apply Neogenesis serum all over the facial skin and leave for 5-7 minutes to let the skin absorb. The serum helps boosts up the skin regeneration process.

STEP 4: LED LIGHT STIMULATION
"LED" light stands for light emitting diode; the therapy works on exposure of skin to the infrared rays (heat) emitted by the LED lights. LED lights come in different spectrums, including red, white, and blue infrared. The lights enhance the result of microcurrent facial treatment and help in acne treatment and shrink the pores on the facial skin. 
STEP 5
: MYOLIFT MICROCURRENT TREATMENT
Pre-Microcurrent 
Conductive treatment gel is applied to the facial skin as it works as a natural conductor of electric waves sent by the microcurrent machine.
Microcurrent facial therapy helps eliminate bacteria, and other microbes, both topically and internally post-LED light treatment. MyoLift™ True Microcurrent enters the skin, driving healing energy into the tissues to rejuvenate and regenerate the fresh skin, and increases the rate of collagen production. 
Post-Microcurrent
Moisturizer or SPF is applied to protect the skin.
Save this Protocol!
Want our protocols for combining modalities with MyoLift Microcurrent treatments? We've got you! Click here for printables & keep them on hand for your next client who wants to combine modalities. There are three combination protocol print-outs included: 
- microcurrent + microdermabrasion
- microcurrent + LED light therapy
- microcurrent + microneedling 
---