Anatomy of a Facial | Segment 2 | Exfoliate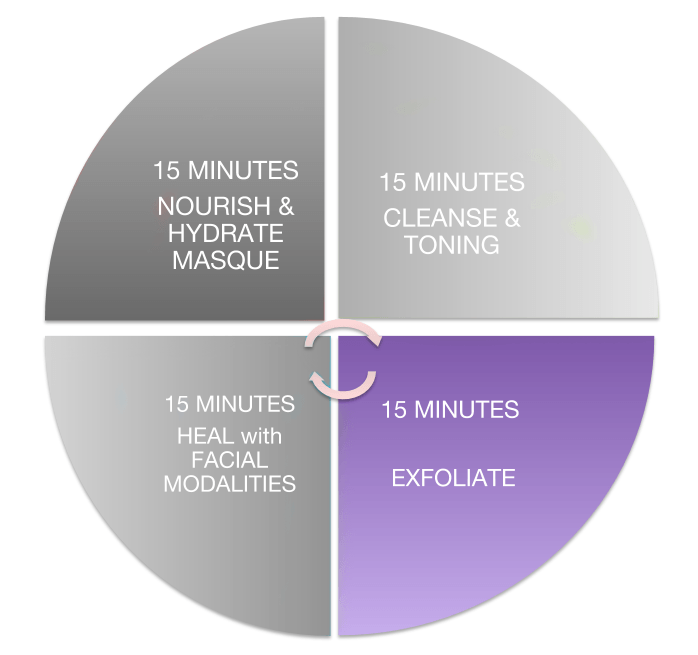 Part 3 | Segment 2 | Exfoliate
Index
Part 3 - Segment 2 | Exfoliation
The second 15-minute segment is all about exfoliation. During this segment of the facial, the skin is exfoliated either by enzymes or acidic products depending on the product line and skin conditions. Sometimes a product can utilize both.
During this segment, you will have to decide on the following:
If the client needs deep pore cleansing for congested skin conditions, recognized by minor bumps, excessive oil, blackheads, and buildup OR do they need exfoliation for aging skin with keratinization and fine lines and pigmentation.  

Which type of

product

to use; acidic or enzymatic action.  

Acidic - generally used for exfoliation of mature or dry skin for a good level of penetration.

Enzymes - used for congestion and surface exfoliation. When performing deep pore cleansing, the time has to be considered for the extractions.   

Method of product application.

Amount of processing time.

Method of product removal.

Extractions if needed.

Use of devices/modalities:

Microdermabrasion - mechanical exfoliation for tighter and a rougher texture of skin. This will leave the skin smooth and polished. Avoid use with acne and rosacea.

Microneedling - a method of creating micronized channels into the skin for skin restructure and product penetration.

Galvanic Current - through the process of iontophoresis to liquefy debris in the pores for easy extraction and sebum absorption.  

Hi-Frequency - providing an antibacterial effect to open pores post extractions.  
Summary: All skin needs exfoliation. Exfoliation is the "priming of the canvas" to remove any obstruction to the skin. This should be done to in any facial to allow penetration of nourishing and hydrating products.  
We will continue our series on the Anatomy of a Facial in the next post, discussing the third facial process: use of Facial Modalities/Devices for healing the skin.
If you have any questions on today's blog, give us a call, drop us an email at the listed website, or reach out on our social media to share your thoughts.  
---