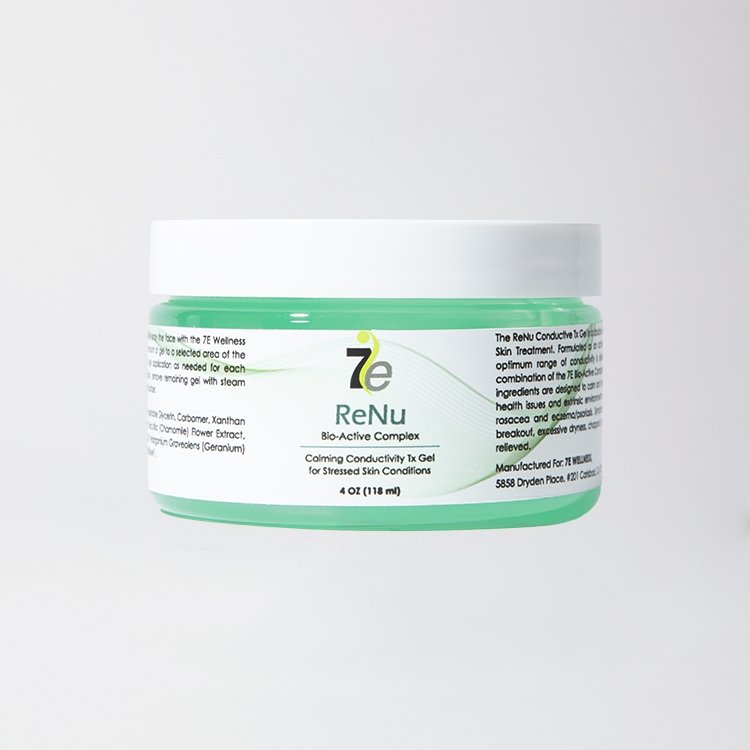 4oz ReNu Conductive Tx Gel For Dry Skin with Bio-Active Complex
Free US Domestic Ground Shipping
Treatment gel for calming and distressing skin conditions. ReNu gel focuses on the internal temperature of the skin and the overall stress level of the individual. When the skin is stressed it may create, redness, acne breakouts, irritation, dry patches or any combination of these symptoms
Applying the ReNu treatment gel for calming and distressing skin conditions will drive the microcurrent energy into the skin for self-healing, hydration, nourishment and positive skin health. The infused essential properties of the following active ingredients will leave the skin calm, anti-inflamed, hydrated, smooth with an even skin tone. 
Active Ingredients
Chamomile - Chamomile is soothing & relieving to stressed skin conditions. Ideal for irritated skin, this is also chosen for skin inflammation and relieves eczema and dryness.
Lavender - Lavender is calming and cooling to compromised skin conditions. Lavender reduces redness, soothes inflammation and assists with dryness.
Geranium - Geranium strengthens weekend skin conditions from inflammation by stimulating cellular renewal. Regulates sebum production for both oily and dry skin.
Zinc Minerals - Zinc repairs damaged tissues and heals wounds. Ideal for topical irritations, acne, eczema and psoriasis. Alleviates inflammation and reduces natural sebum secretions. Zinc acts as the vehicle to deliver the current into the skin.
Complete Ingredient List
Filtered Water (Agua)

Vegetable Glycerin

Carbomer

Xanthan Gum

Hyaluronic Acid

Chamomilla Recutita (Chamomile) Flower Extract

Lavandula Angustifolia (Lavender) Oil

Pelargonium Graveolens (Geranium) Oil

Zinc

Sodium Hydroxide

Food color Yellow #6/Blue #1
Free USA Ground shipment, Orders are processed within 2 business day.
International Orders Ships within 3 business day. 
International customers are required to pay Duty with their local custom agency.