4 Step Microcurrent Protocol with Microdermabrasion and Human Cells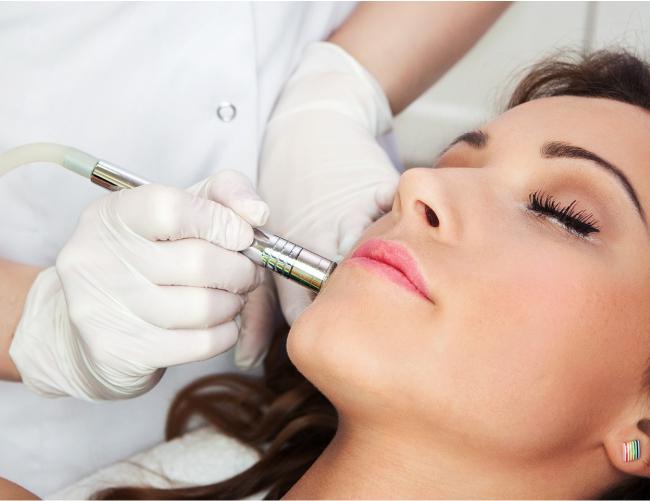 There are different facial protocols that an aesthetician uses to treat the client seeking microcurrent facial therapy. The protocol chosen depends upon various factors, such as skin condition, skin issues and the result that a client seeks with the treatment. As we explained earlier, microcurrent facials have been a revolutionary finding in the field of beauty treatment and non invasive face lift; when combined with Microdermabrasion and human cells treatment, the results of microcurrent therapy are exponential. However, so many people question which protocol to follow so here are the steps for this facial protocol:
STEP 1: REMOVE MAKEUP AND CLEANSE FACE
The therapy begins with cleansing your skin to make sure all make-up and dirt are removed from the skin. The facial skin is then cleaned with alcohol wipes additionally to dry the skin.
STEP 2 : MICRODERMABRASION
With age and time, the skin is layered with dust, dirt and dead skin cells. The procedure involves polishing of the skin using a stream of crystals or diamond tip. Microdermabrasion allows deeper penetration into the muscle for the microcurrent. How often should you exfoliate skin depends on your skincare needs.
STEP 3 : HUMAN CELLS (FACTOR 5 OR NEOGENESIS)
Factor 5 or Neogenesis serum is applied to the skin to hasten the natural healing process of the skin. The serum is applied to the skin and left for 5-7 minutes to let the skin absorb. It activates multiple types of skin cells normally involved in regeneration processes. Difficult conditions like eczema, psoriasis, acne and rosacea can also be treated with the help of Neogenesis or Factor 5 serum.
STEP 4: MYOLIFT MICROCURRENT THERAPY
Pre-Microcurrent
Seaweed gel is applied to the facial skin as it works as a natural conductor of electric waves sent by microcurrent.
In the world of anti aging skin care, microcurrent treatment is being used by companies like Nuface, 7eWellness, West Berkeley Wellness.  7e MyoLift™ microcurrent machine makes use of true microcurrent therapy and uses body's own low-level natural current to contour, firm and tone the aging skin. The soft gentle waves sent in the skin replenishes the baby soft skin one has post Microdermabrasion treatment. The new skin is supple and smooth and has no signs of aging, wrinkles or marks. MyoLift™ facial toning is cumulative and with 6-12 treatments most clients will get the desired results.
Post-Microcurrent therapy moisturizer or SPF is applied to protect skin.
Note - Ask your clients to drink lots of water before microcurrent therapy as it helps in better conductivity during treatment. 
---