Anatomy of a Facial | Facial Time Wheel Management Concepts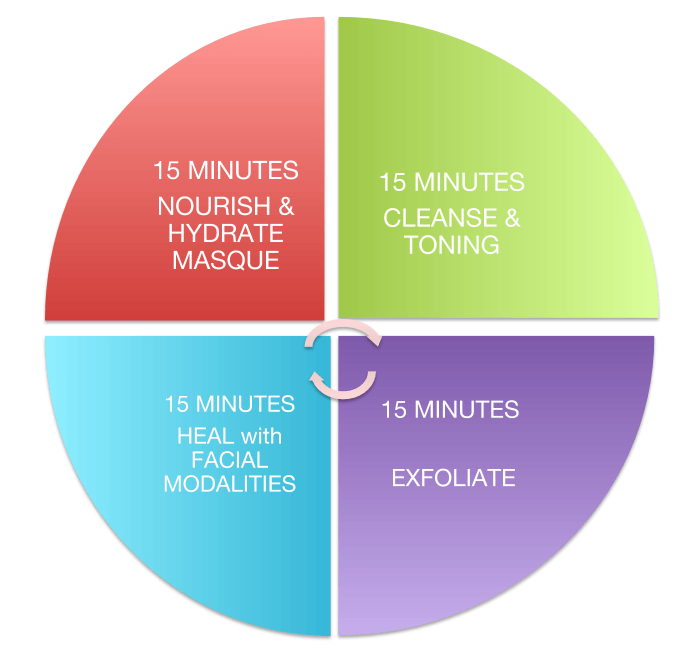 Part 1  | Introduction to Facial Time Wheel Management Concepts
Index
Part 1 - Introduction to Facial Time Wheel Management Concepts
Welcome to 7E Wellness! We are manufactures of advanced state of the art microcurrent devices for the aesthetics and medical arenas. It is our mission at 7E Wellness to educate our professionals with the facts in science, techniques and skills in face and body services. We incorporate a variation of techniques and aesthetics devices such as microcurrent.  
7E Wellness Education Blogs are created with YOU, the working professional. in mind. Whether you are a novice professional in skin care and new to the world of aesthetics or you have been in the business for years, we guarantee you WILL increase your knowledge in both the aesthetics and microcurrent services with each blog. This viable information translates into increased revenue for your business. Let's get started!
Our topic today is Introduction to Facial Time Wheel Management Concepts
Blog Objectives:
Purpose of the Facial Time Wheel
The importance of maintaining time during a facial service
The consistency in facial protocol
Mastering the Facial Time Wheel Concept
This 5-part series blog delivers 3 very important elements while performing services: improving time management skills during services, consistency in protocol application and recognizing the value in every minute of the service.  
The Facial Time Wheel Concept is a uniformed and systematic process for any facial service utilizing the "Facial Time Wheel". The Facial Time Wheel is a blueprint to any facial service based on a 60-minute block of time; one hour, just like clock. See Diagram 1.  It is our goal that you Master the Facial Time Wheel Concept to gain the confidence of performance and the reassurance of positive results.
Diagram 1: Think of the Facial Time Wheel like a clock
So, what does the Facial Time Wheel do for the professional?
- Acts as a "blueprint" to the facial service.
- Keeps the professional on track so the service is completed on time and in its entirety.
- Unifies the protocol of the service no matter what skin care product line is used.
- Gives logical sequence of facial steps. (In other words; an exfoliation is done before a hydration mask is applied).
- Provides consistency in the facial process for businesses with more than one professional.
- Serves as a written log of protocols for documentation.
- Allows the professional to understand the use and importance of product choices in the service.
5-Proven Tips on Facial Time Wheel Management that will satisfy your client
Provides consistency in your services

Provides structured and uniformed service

Guaranteed timing of each visit

The client knows what to expect from each service

Provides a complete and beneficial service


Let's talk about your Value of Time:
We have all heard the saying, "Time is money". That is never so true than in the skin care industry. We are a service-based industry dictated by appointment time. What is that time worth? During any service there are several cost factors to consider. There are the fixed costs, variable cost and the treatment cost.  This blog is focusing on the treatment cost. First, find out what it cost you to do your service. This is usually provided to you by the skin care product representatives. Cost of a basic facial treatment today is between $10.00 and $15.00. Adding in facial devices and specialty products can raise that number. But we will work off of $10.00 per treatment cost. The average facial is $60.00 depending on the area your work in. When you dissect the facial time, each segment and each minute have a dollar value.
Example: If you advertise your 60-minute facial on the menu for $60.00, then you want to adhere to a 60-minute time frame. Each 15-minute segment is worth $15.00. If you add a facial modality such as microcurrent machines, you can increase that segment cost, which in turn increases the overall service price. If there is overlap in time, an additional charge should be added to justify your time.
Now ask yourself, are you maximizing your value in the facial service?
The Facial Time Wheel explains how to use your time, add facial modalities such as electrical devices, microcurrent machine as designated by the service, in four 15-minute segments.
Segment 1 - Cleanse
Segment 2 - Exfoliate
Segment 3 - Heal
Segment 4 - Hydrate and Nourish
Summary:
The importance of understanding the anatomy of a facial will save you time, increase revenue and secure positive results with consistency. Learning the Facial Time Wheel management concepts can propel your understanding an array of treatment options and skin care treatments modalities.
That's all for this portion of the blog series! In the next post on Anatomy of a Facial we will begin the facial process with Segment 1-Cleansing, Toning and Consultation!
If you have any questions on today's Educational Blog, give us a call or drop us an email at the listed website.  
---