MyoLift™ 600: An ATP Booster Kit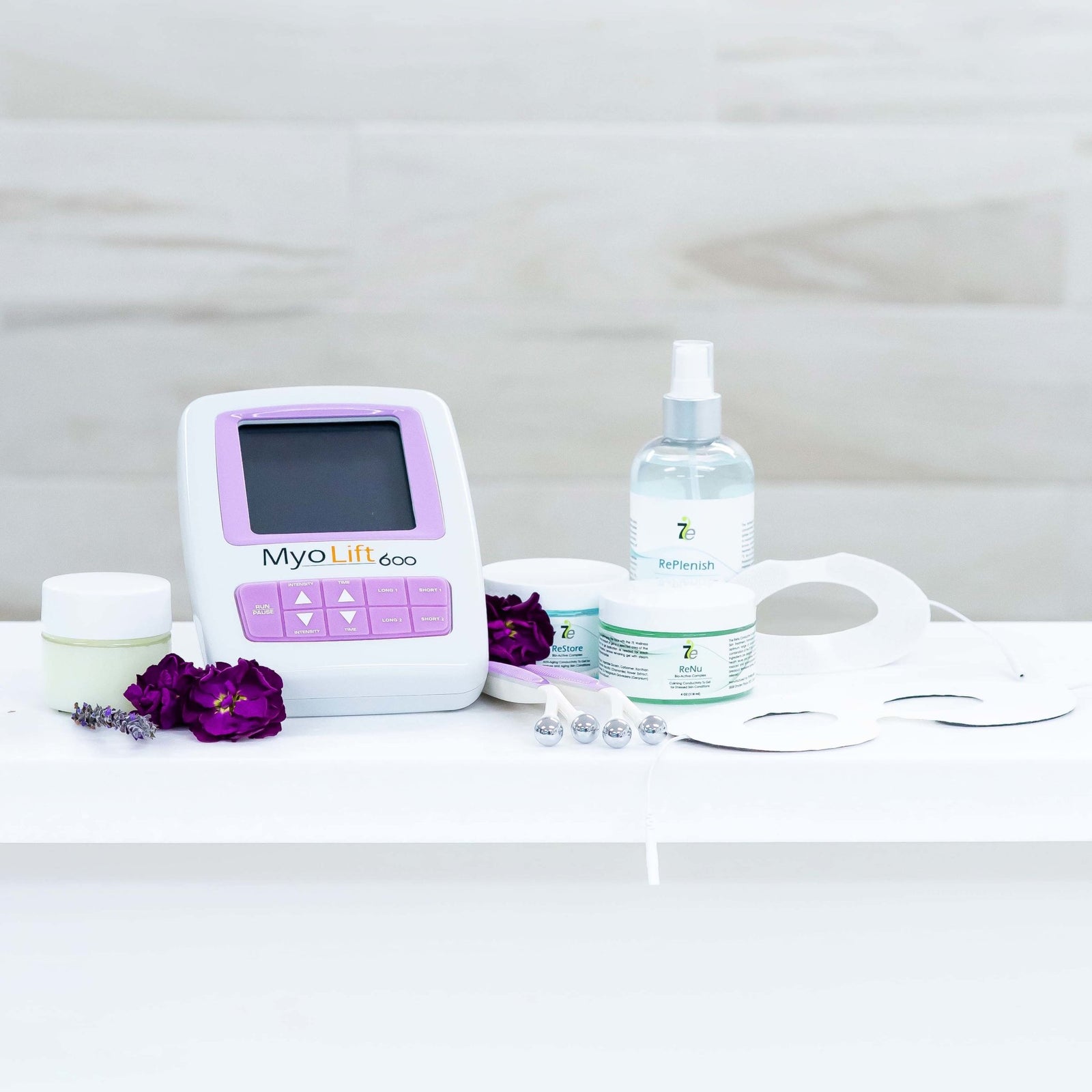 The FDA-Cleared MyoLift™ 600 is the latest microcurrent machine from 7E Wellness designed for professional use. With four unique protocols to either lengthen or shorten the muscles, this device delivers true intensity ranging from 175 to 600 micro amps. The MyoLift™ 600 protocols ignite the ATP stimulation and sets a standard for non-invasive technology and the ability to provide long-lasting, natural facial lifting and toning results. 
For professional use only, this powerful microcurrent machine is a perfect tool for boosting ATP for anti-aging, cellular repair, muscle re-education, skin firmness and tightening.
The MyoLift™ 600 ATP Booster Kit is designed as a four-part series of treatment protocols to be utilized with the latest professional microcurrent machine from 7E Wellness. By incorporating the 7E conductive treatment gels, conductive eye and lip masks, and the brand new active ATP booster mask, these protocols will not only leave the skin and muscles regenerated but equally as important, they enhance the ATP stimulation instantaneously for weeks to follow.
By expediting the ATP energy transfer into the cells by the use of MyoLift™ 600 the following metabolic changes in the skin and muscles were observed...
ATP (cellular metabolism) increased by 500%

Fibroblastic Activity increased by 60%

Protein Synthesis increased by up to 73%

Membrane Transport

Cell Permeability increased by 30-40%

Amino Acid (proteins) transport increased by 30-40%
Progressive Microcurrent Treatments
MyoLift™ 600 delivers a progressive advancement in long-lasting facial lifting and toning results. As the MyoLift ignited the ATP stimulation, the body uses the energy needed for metabolic energy. The unused portion of the ATP energy will reside in the cellular tissues until more energy is needed by the cells. The unused energy will never go to waste. For this reason, the MyoLift™ 600 microcurrent treatments are cumulative and progressive treatments.


---