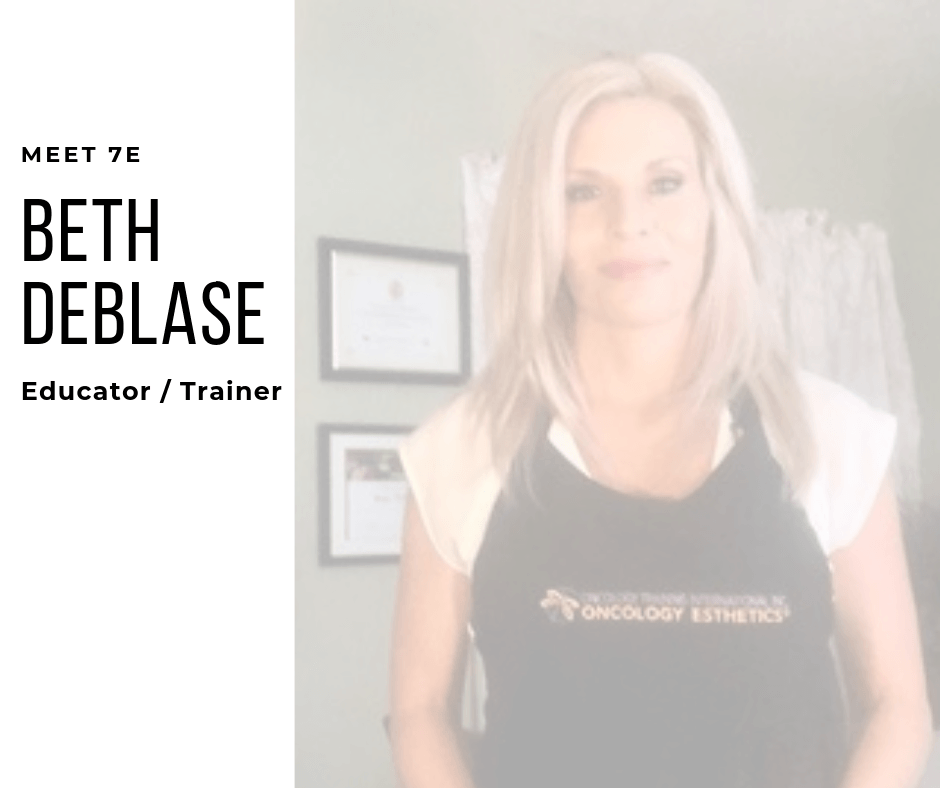 We are excited to continue our blog series "Meet 7E" this week, where we will introduce you to various members of our team and how they support the overall mission of providing professional True Microcurrent™ technology and education.
In the last few years 7E Wellness has experienced powerful growth from products and clients to staffing. Despite this amplification, we want to make sure you always feel like you know who you're talking to and where you can find answers within our company.
Today we're sharing Educator and Trainer Beth DeBlase's role in 7E Wellness and what brought her to us.
My name is Beth DeBlase and my personal vision for myself and our industry is to have the ability to incorporate more holistic and noninvasive therapies to integrate into the overall Esthetic & Wellness Industry on a larger scale through education and awareness. 
In January 2016, I lost an older sister to thymic carcinoma, a rare and terminal cancer. Two months after the death of my sister, I was diagnosed with Stage 4 neuroendocrine cancer, a rare and uncurable cancer. This would be one of the darkest times in my life. Yet, when you have lived your passion it never leaves you, even though some of your organs might. During my recovery, I was constantly in pursuit of alternative therapies and modalities that could aid in the healing process, not just physically but emotionally. Especially emotionally!
Almost a year to the date at my sister's passing, I took a certification course in esthetic oncology in Los Angeles, California. Having an opportunity to bridge my new profound awareness of life and the connection with my passion was the healing I had been searching for. Upon completion of my course, my direction to take this new chapter of life and career was not clear. I have been a licensed practitioner for 20 years with several continuing education and certifications including Oncology Esthetics, Holistic Therapies, Microcurrent, & Manual Contouring Massage. I am also currently enrolled at UCI's Spa & Wellness Management Program. Esthetic oncology empowers me to advocate and connect with others. Each time I advocate, I am learning to advocate for myself—to learn what self-healing truly means. I see power in touch, connection, and advocacy. I see it every day on this path and in those that walk it with me! 
During the time between my diagnosis and now I have been placing dots in my life, from continuous education, patient advocacy, implementing programs and so on. Not sure where any would lead me, yet always open to it. Now it has brought me to Pooja, to Jacque, to Lynda, to Jessie and to 7E Wellness. They have become a place of joy for me, joy I know other's need. 
I have loved the MyoCalme™ device and I knew I would enjoy an opportunity to collaborate with like-minded individuals & companies in expanding knowledge of microcurrent as a therapeutic modalitiy to enhance an individuals quality of life. Contributing a greater awareness and perspectives in our amazing industry, that we all share a unique passion for.
As a team member and as a patient, I am thankful for meeting our CEO, Pooja Johari. Feeling her mission has enhanced my quality of life, and fueled a spark within. 
Sincerely,
Beth DeBlase
---