What is the Difference: MyoLift™ Mini vs MyoLift™ 600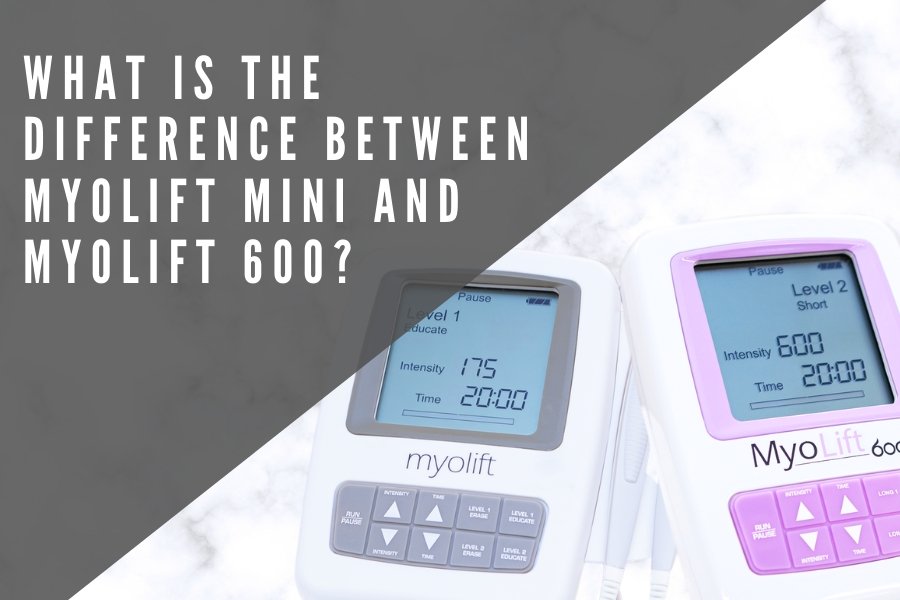 It can be a little overwhelming if you're trying to decide which professional microcurrent machine is best for estheticians. Not only are there plenty of fantastic companies manufacturing microcurrent devices but each company has a variety of high-quality devices on the market.
We can lift some of that confusion by giving more insight to the differences between our facial lifting and toning microcurrent machines here at 7E. This week we want to highlight the major differences between MyoLift™ Mini and MyoLift™ 600 and next week we will compare MyoLift™ 600 to our MyoLift™ MD. This should give you some direction on which microcurrent machine is best for your esthetics business!
Intensity Range
The biggest difference between our MyoLift™ Mini and MyoLift™ 600 is their intensity range. 
Mini: 175 - 400 Microamps

600: 175 - 600 Microamps
Why it matters: In any weight training exercises, eventually your muscles will be strong enough to bump up in weight. The same kind of progression works when it comes to intensity of microcurrent on your facial muscles. The increased range of MyoLift™ 600 provides your clients the opportunity to see results more quickly than they may see with the Mini.
Professionalism
It should also be noted that our MyoLift™ 600 is optimized for professional use in a spa or salon setting whereas our Mini is available to consumers and professionals alike. While both machines provide a gorgeous lift, evening of skin tone and reduction of fine lines and wrinkles we encourage estheticians who are serious about providing amplified results to their clients in a professional setting opt for MyoLift™ 600.
More Protocols with MyoLift™ 600
Our MyoLift™ Mini is known for its two unique protocols, working with Level 1 and Level 2 programs for ATP stimulation to help the re-education of muscles and the treatment for aging skin.
Our MyoLift™ 600, on the other hand, has four pre-calibrated programs designed for ATP stimulation and the re-education of muscles for the treatment of aging skin.
Why it matters: As a beauty professional, creating a customized and personal experience for your clients is what makes you stand out from the competition. Targeting the unique concerns of your client with the specialized protocols of MyoLift™ 600 is one way to go above and beyond to help them look and feel their best. For more tips on how to built trust and creating long-term clients, read our blog on building trust with new clients!
Kit Differences
At this time, our MyoLift™ 600 is only available for purchase in the MyoLift™ 600 ATP Booster Kit. This kit is priced at $1,199.99 and includes a variety of accessories that work to boost ATP (or Adenosine Triphosphate).
The ATP Booster Kit Includes:
FDA-Cleared MyoLift™ 600 Microcurrent Device

ATP Booster Gel Mask

4 Eye Masks

4 Lip Masks

Replenish Hydrating Spritzer
Our MyoLift™ Mini can be purchased for $269 and indludes:
FDA-Cleared MyoLift™ Mini Microcurrent Device

Device Charger

Applicator Probes (2)

Restore Anti-Aging Conductive Treatment Gel

Training Manual

Facial Muscle Chart

Reference Guide
Suggested Treatment Charge
This is another factor for professionals to consider when deciding between the MyoLift™ Mini or 600 - what financial benefit will it bring to your beauty business?
The suggested treatment charge for any microcurrent treatment will always vary depending on your experience, location, clientele, and other factors. But on average, our clients fall into the following treatment charge ranges:
MyoLift™ Mini: $85 - $100 per treatment

MyoLift™ 600: $125 - $145 per treatment
Our affiliate partner Jennifer Joyce Beauty did a helpful comparison video that you can watch below on this exact topic. Give it a "like" and subscribe to her channel for more MyoLift™ reviews!
After reviewing these comparisons, which MyoLift microcurrent machine do you think you'll grab next time you're in our online store? Let us know in the comments and be sure to share with us on our social media once you get your MyoLift delivered! We can't wait to see the magic you create with microcurrent.
---