The Ultimate Holiday Facial with Microcurrent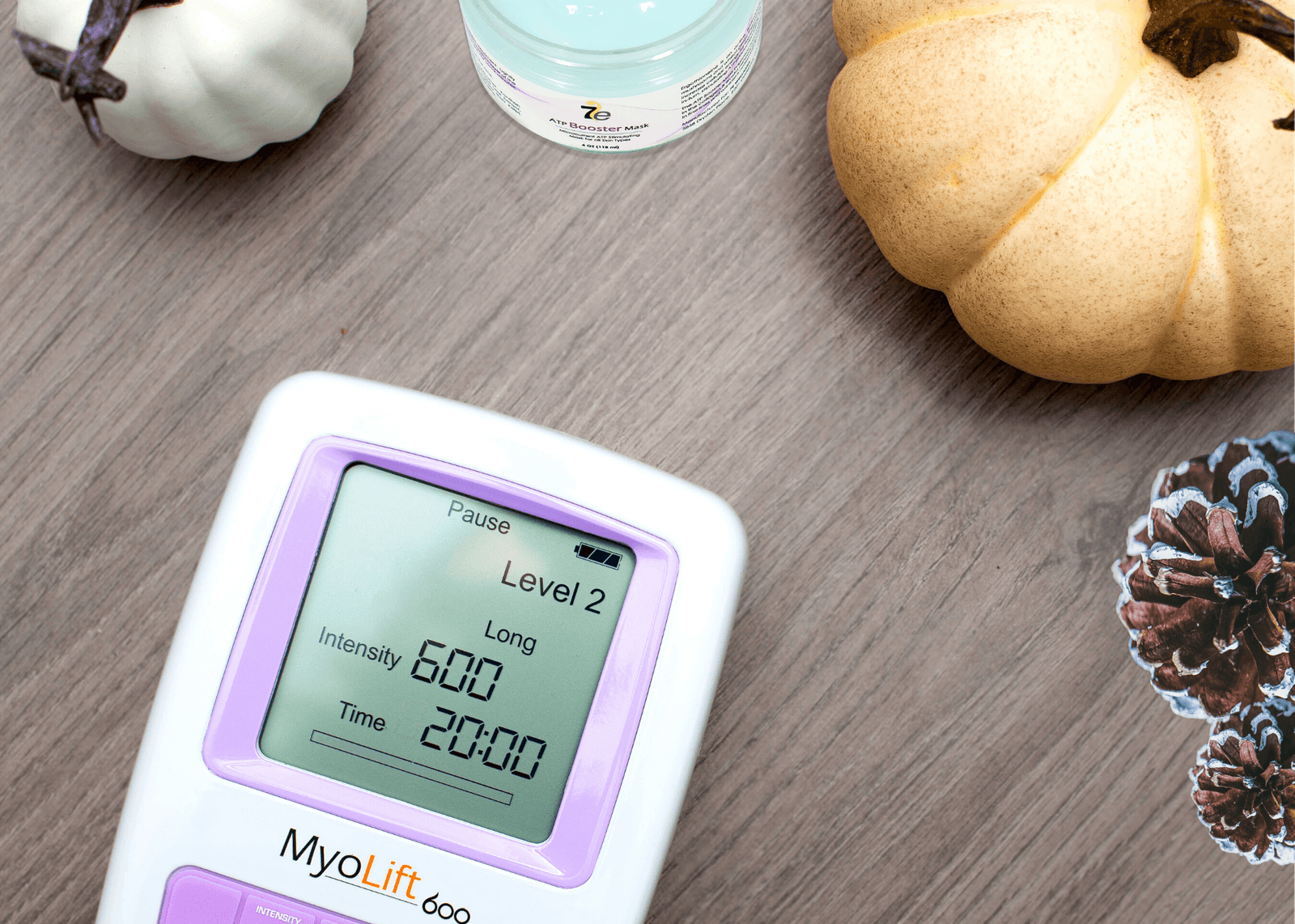 Tis the season to bring some holiday cheer to your clients! The winter months are a great time of year to offer rejuvenating, hydrating facial treatments that give your clientele a glow and boost of confidence to take with them into any holiday party. Our educators have suggested the following customizable protocols to help you create the Ultimate Holiday Facial for your menu of services. Offer a complete pampering experience to anyone walking into your esthetician room and promote a healthy, glowing and lifted look to launch them into the new year with.
The secret behind this Ultimate Holiday Facial? An emphasis on increasing ATP levels. This is crucial in the dryer winter months because boosted ATP levels improve moisture retention, tightens skin, reduces redness and improves skin texture among many other benefits. You can read more about why emphasis on increasing ATP levels by clicking here.
Now, onto the fun!
The Ultimate Holiday Facial with MyoLift™ Microcurrent 
Step 1: Cleanse the skin
Step 2: Exfoliate using your choice of enzyme, microdermabrasion or dermaplaning
Step 3: Spray on the Replenish Spritzer to hydrate the skin
Step 4: Brush on a light coat of the ATP Booster Mask
Step 5: Perform red LED treatment.*
*This step is optional. The more efficiently your cells create ATP energy through cellular respiration, the better your body feels and performs. Red and NIR light stimulates mitochondria and works against nitric oxide & oxidative stress that weakens our cells and slows us down. Pairing this with the ergotheonine in our ATP Booster Mask is a powerful tool helping increase cellular respiration. For that reason it is a wonderful modality to use in conjunction with our ATP Booster Mask!
Step 6: Perform Nano Infusion treatment*
*This step is optional. Nano Infusion opens channels into the skin to help penetrate products deeper. MyoLift™ microcurrent heals and pushes products deeper into the skin and closes pores. This Nano-Micro Facial Therapy opens a path for faster skin rejuvenation, deeper hydration and additional age-defying benefits.
Step 7: Apply the conductivity gel of your choice (ReStore for anti-aging and ReNu for calming and hydrating the skin are both great options in the winter!)
Step 8: Perform MyoLift™ Microcurrent treatment
Step 9: Apply the ATP Booster Mask or mask of your choice OR if you choose to do a peel, apply the peel after you do your microcurrent treatment with no mask afterwards
Step 10: Moisturize
Make sure to share the before and after results from your Ultimate Holiday Facial treatments with us by tagging us on Instagram @7ewellness and using the hashtag #myoliftmagic!

---